If you are running an Ecommerce business and not leveraging the power of email marketing, you are leaving a substantial amount of money on the table.
Email marketing continues to deliver a higher ROI than any other channel ($42 for every $1 you spend). It's a great way to increase conversion rates, number of sales, and average order value.
In this article, we'll cover what an email marketing campaign is, and provide some tips and tricks that will help make your email marketing strategy a success. We'll also show you the best eCommerce email templates and ideas that every Ecommerce business should implement.
So without further ado, let's get started.
Understanding Ecommerce email marketing campaigns
An email marketing strategy is a perfect way to reach your target audience and increase brand awareness. Still, it's not enough on its own. Why? Because when it comes to ecommerce businesses, it's all about the right sequencing.
Those businesses need their messages delivered at the right time, to the right person and with personalised messaging that will engage with the audience. Nailing this will be the difference between a high conversion rate or a high rate of people unsubscribing from your emails.
Sending irrelevant or unwanted emails to the wrong people at the wrong time will ruin any chance of turning email marketing into a profitable channel. So let's talk about the different types of campaigns, when to use them and how to make them engaging to your audience.
There are two main categories of ecommerce emails:
Customer journey emails
Promotional or engagement emails
Customer journey emails
These emails follow the customer around their shopping journey: from the moment they come into the website and sign up to your newsletter, to the moment they make a purchase and beyond. We like to think of these as automated emails or "triggered" emails because they're sent based on different actions that the customer takes when interacting with your website, such as signing up to your newsletter, purchasing a product or abandoning their shopping cart (life happens!).
Let's dive into the emails your online store should send out and how to optimise them to achieve your business goals.
1. Welcome emails
Your first impression from a new subscriber is crucial. If you don't impress, your follow-up campaigns won't be memorable either. The tone should remain informative but friendly enough for someone who might not know what's in the email to gain interest quickly. Welcome emails are your way of saying welcome to our online store.
The welcome email is an integral part of your promotional campaign. It's the force behind driving three times as much transaction and revenue per email than any other mailing, making it crucial that you know how to use one.
Adidas welcomes its customers with an email offering a limited time 15% discount that gives a sense of urgency.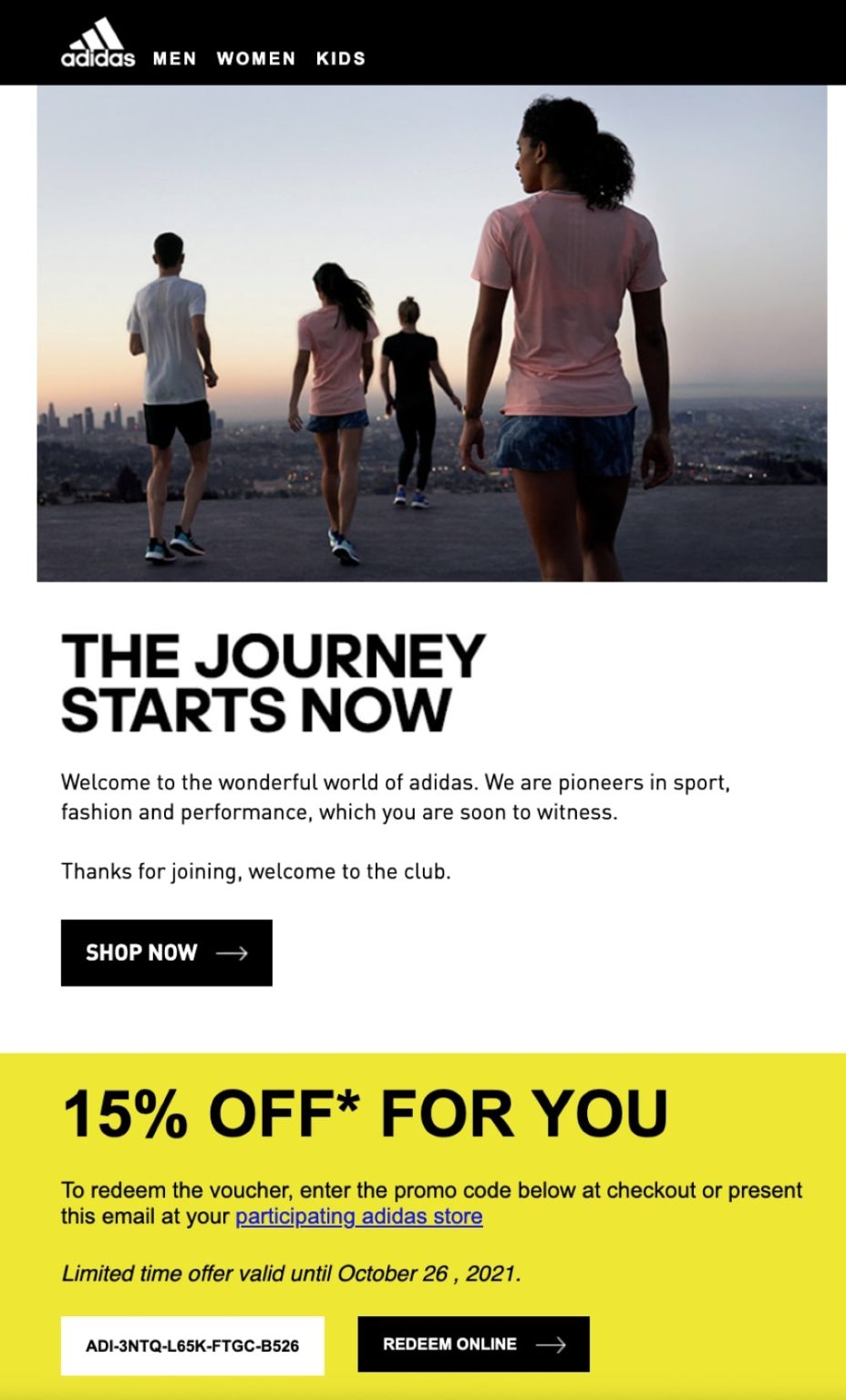 2. Shopping cart abandonment emails
We've all been browsing the Internet, and then something diverts our attention. It can be anything from Facebook notifications to a knock at the door. But, whatever it may be, we will almost always have abandoned cart emails without thinking twice about them.
The magic of knowing your customer's lifetime value is the key to incentivising cart completion. This will help you decide if you can afford to offer a discount to incentivise people to complete their purchases. If your thin margin doesn't allow for a discount, try asking the customer for feedback and figure out if there's another way to help them complete their order. You might discover something such as your PayPal payment method isn't working!
Online Flooring Store emails its customers and offers a code for $30 off of their next purchase over $999 as an incentive to complete their purchase.
Abandoning shoppers are a given. It's paramount you understand why they didn't complete their order and then use the feedback from this process for future customers.
3. Order confirmation emails
Did you know that the average open rate for an order confirmation email can be as high as 70%-90% depending on the industry? This makes them the perfect opportunity to keep the client engaged.
The order confirmation email is a great way to remind your customers that they have made the right choice. It's more than just an online receipt and can help boost sales. However, before you start experimenting with the extras, you want to ensure your email receipt has all the relevant information such as when to expect the order, items purchased, shipping address and where can they contact you if they have any questions.
Who Gives A Crap lets customers know when their order will be shipped and outlines the impact your purchase has had on the wider community.
For recurrent customers, you can try upselling by suggesting related products, accessories or add-on.
Who Gives a Crap send an order confirmation to subscribers before their next order is shipped, inviting them to add more items to their box.

4. Shipping confirmation emails
Shipping confirmation emails are a great way to keep your customer up-to-date with their order. They can be used creatively to engage with your audience.
Who Gives A Crap provides a shipping tracking number in a fun email that's full of personality.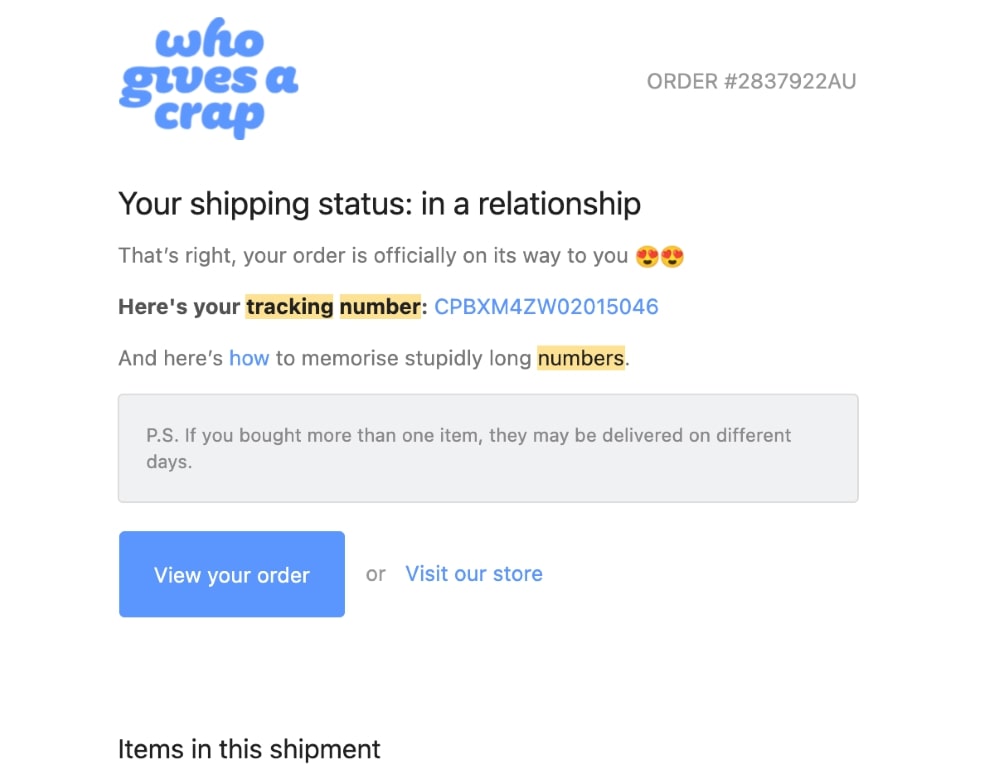 5. Survey emails
Brands must be willing to listen and respond. They should ask customers what they think of their experience, whether it is positive or negative. Feedback can help a brand identify opportunities for improvement so that future experiences will go even smoother.
After a customer uses your product, you will want to send them an email asking for feedback.
Mailchimp sends a check-in email after their customers send out email campaigns that explains what their company does.
Giving your customers the freedom to express themselves is essential. Please don't focus on sales, but rather customer satisfaction and making sure they're satisfied with their purchase. Keep track of these metrics to find actionable insights you can implement for better business practices in the future.
Dell sends a survey email to their customers a few months after their purchase is complete. This gives them enough time to have a full overview of the quality of the products. 
6. Second order emails
When it comes to email marketing to existing customers, taking the time to analyse your data and learning about their shopping behaviour is a game-changer. Let's say that while looking at your data you realise that 50% of customers that buy product A, will normally buy product B two weeks after. To turn that 50% into 70%, you can set up an automated campaign that triggers two weeks after a customer buys product A, featuring product B.
Analysing data can seem daunting, especially if you are Ecommerce business with hundreds of products. We recommend starting with your three best selling products and go from there.
A perfect example of this is Specsavers. If a customer buys six months worth of contact lenses, then they know that most likely that same customer will need to order some more in six months, so they send an email campaign anticipating this deadline. The result? Customers can re-order their contact lenses with only a couple of clicks.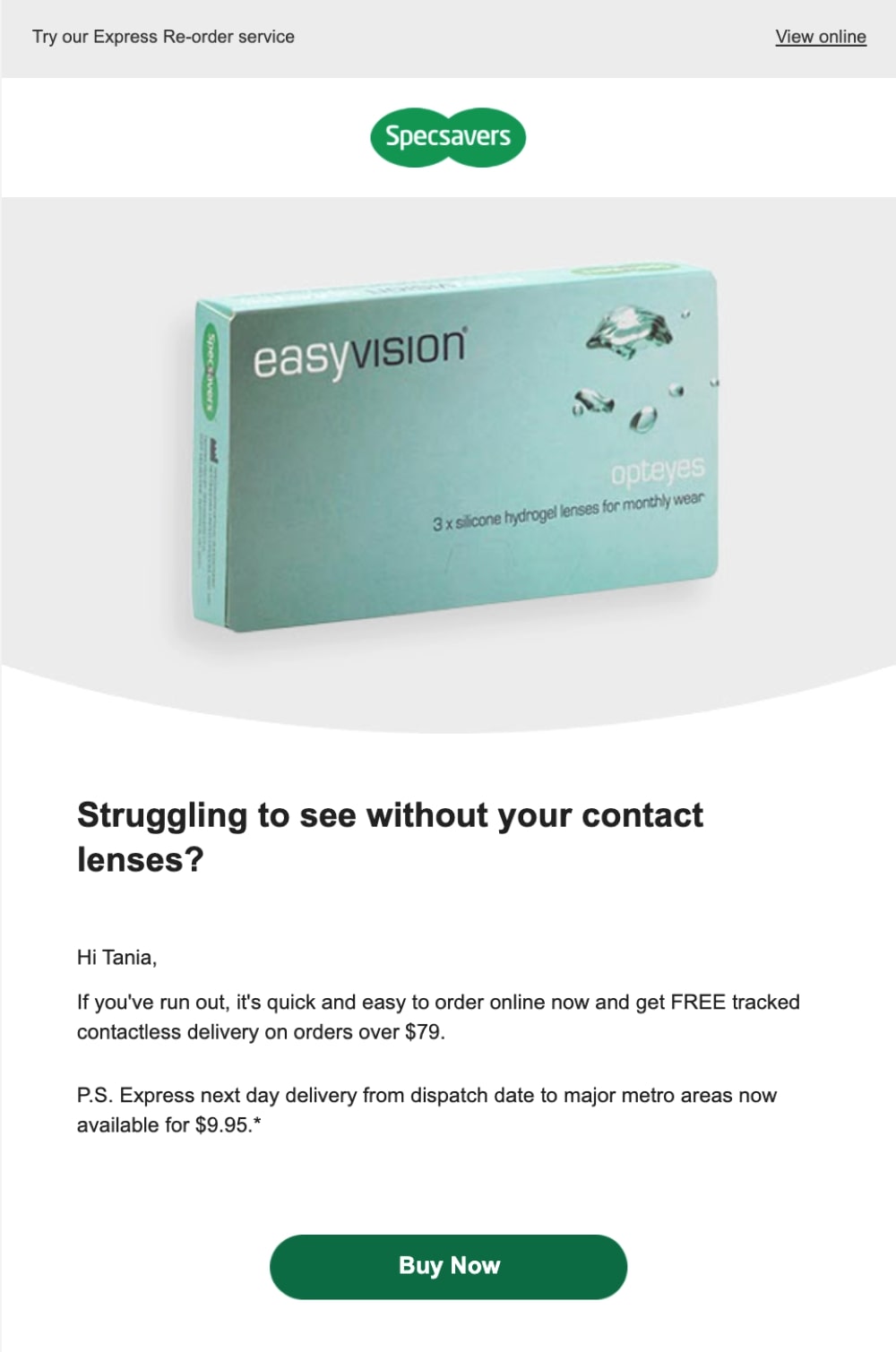 7. Win-back/come-back emails
Depending on your industry, it can cost seven times more to acquire a new client than retaining an old one. That's not even considering that an existing client already knows you and is way more likely to purchase from you again, so it's smart to put a little bit of effort into retaining your existing clients.
A win-back email is designed to lure customers back to positive purchase behaviour. It's a great way to make customers feel valued and cared for. If you have a recurrent customer that shops with you every month and they've gone MIA for two whole months you might need to check-in, let them know they're missed and maybe send them a little incentive to come back.
Bounce INC. offers you a promo code worth $10 off your next session.
Promotional or engagement emails
These emails are designed to tell your subscribers about a certain promotion or deal or share some news about your business. They are normally sent in bulk to your entire subscriber list or a segment of it.
1. New products or services
Do you have a new product or service? There's no better place to begin when launching than with your subscribers. It's worth noting that if the product or service appeals only to a specific set of customers, segmenting your list based on previous purchase behaviour is key to achieve good results. You can see who has already shown an interest in buying from you and what kind of experience they've had with the brand.
Hype DC does this with their product promotion email by showing customers their new shoes that drop every week.
2. The discount email
You have a real winner on your hands when you offer a discount. Everybody likes to take advantage of a smaller price tag, especially if it's something that you already had your eye on. Discount emails are a great way to generate quick cash flow or getting rid of old stock. Here are some types of discount emails you can use:
Time-sensitive deals: did somebody say Flash Sale? only 24 hours? I must buy it now. Giving your audience a sense of urgency can give them that little extra push they needed to buy, especially if it comes with a reduced price.
Subscriber-Only promotions: It's not just about your content anymore. Now, you can include a coupon to boost sales and make it feel like someone is an insider with exclusive access! The more exclusivity in marketing campaigns, the better. Especially when people love feeling unique for being on board with something new or different from others.
A perfect example is how catch.com.au gives a community chest discount to its subscribers by offering fifteen dollars off their next purchase.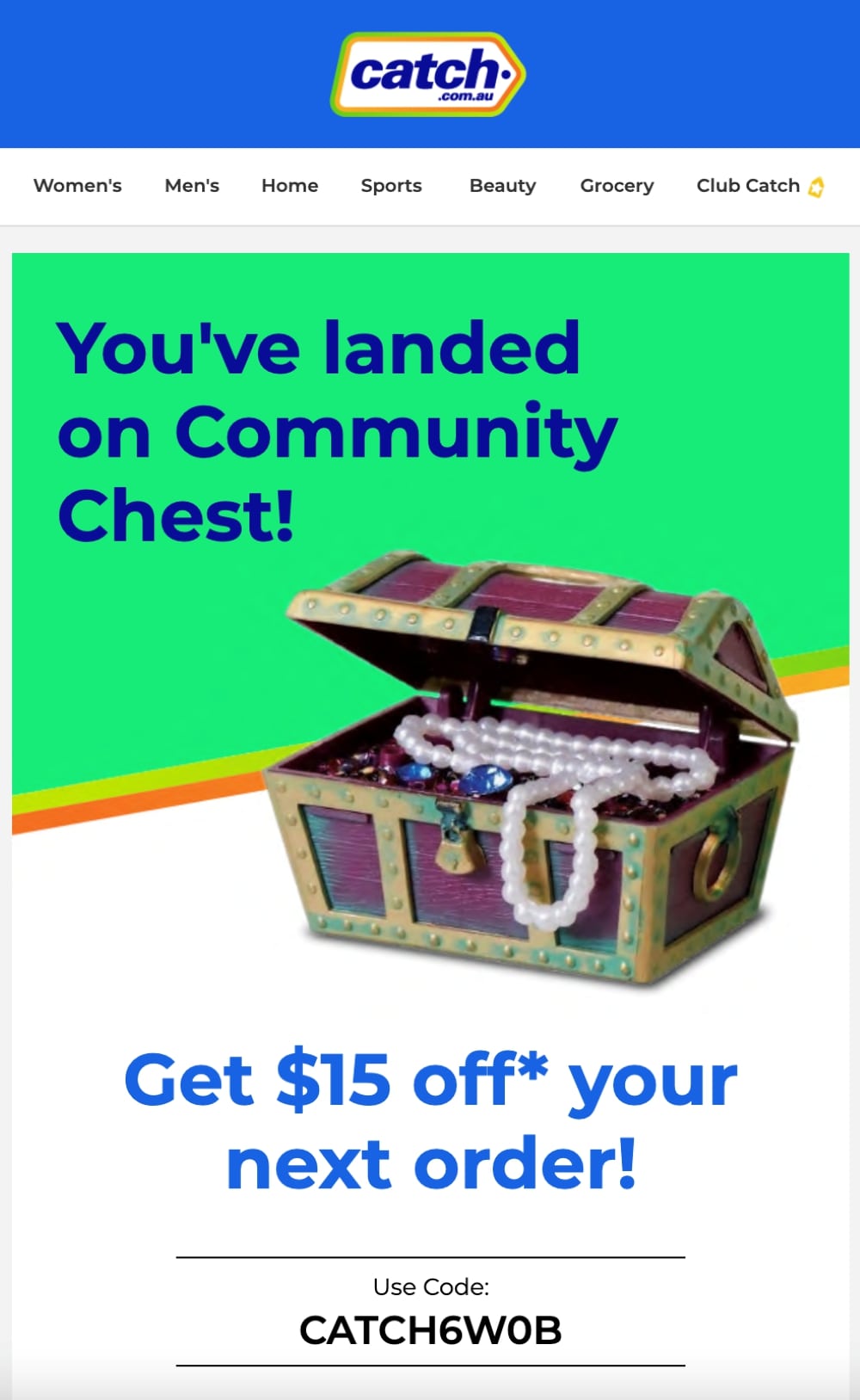 Please note, while discounting is effective, you need to strike a balance.
Too often and you might cheapen your products and brand, and your profits will plummet; too little and you will drive no sales. A good option is to offer discounts to ONLY subscribers that engage with your campaigns (e.g. opening emails, clicking links, etc.).
3. Seasonal promotions
Email marketing is a tried and true form of communication. Still, it can be more effective when you add in some seasonal elements. For example, you might want to notify subscribers about upcoming holidays or special sales from your company based on dates like Black Friday and Cyber Monday. In addition, don't forget that Mother's Day rolls around every May, too, so take time to celebrate mom by offering discounts during this event.
The Horse celebrates Father's Day by offering a gift guide for dads.
4. Curated email
Curation Emails are a type of newsletter that curates the best content or personalised content for your audience. So whether you're looking to give someone interested in one specific topic or want all new knowledge on-hand at any given moment, these emails will provide what's needed.
Skillshare sends you a selection of content that might be of interest based on previous interactions and classes you've taken before.
5. Referral email
Word of mouth is the most effective form of marketing. Just think about it this way, you will normally trust your friends' advice over some billboard on the street. Inviting customers to refer their friends and family are a great source of new potential customers.
The OutNet welcomes you to spread the word about them and offers a 20% discount to their customers and anybody they refer.
6. Newsletter
Newsletters are powerful tools in marketing because they provide an opportunity for brands to keep their customers informed and engaged. In addition, newsletters can help build closer connections between you and your clients (and prospects).
The Australian Red Cross has a newsletter called The Pulse. It's well organised and offers valuable information and fun facts about healthy living.
7. Content update
If you use content marketing to engage with your customers, email is a great way to increase the exposure of your content. Either if it's creating an email showcasing your latest photos or videos or creating automation to send new blogs out every week, email marketing is a great way to reach your audience with great content created specifically for them.
Hubspot sends a weekly email with their latest articles.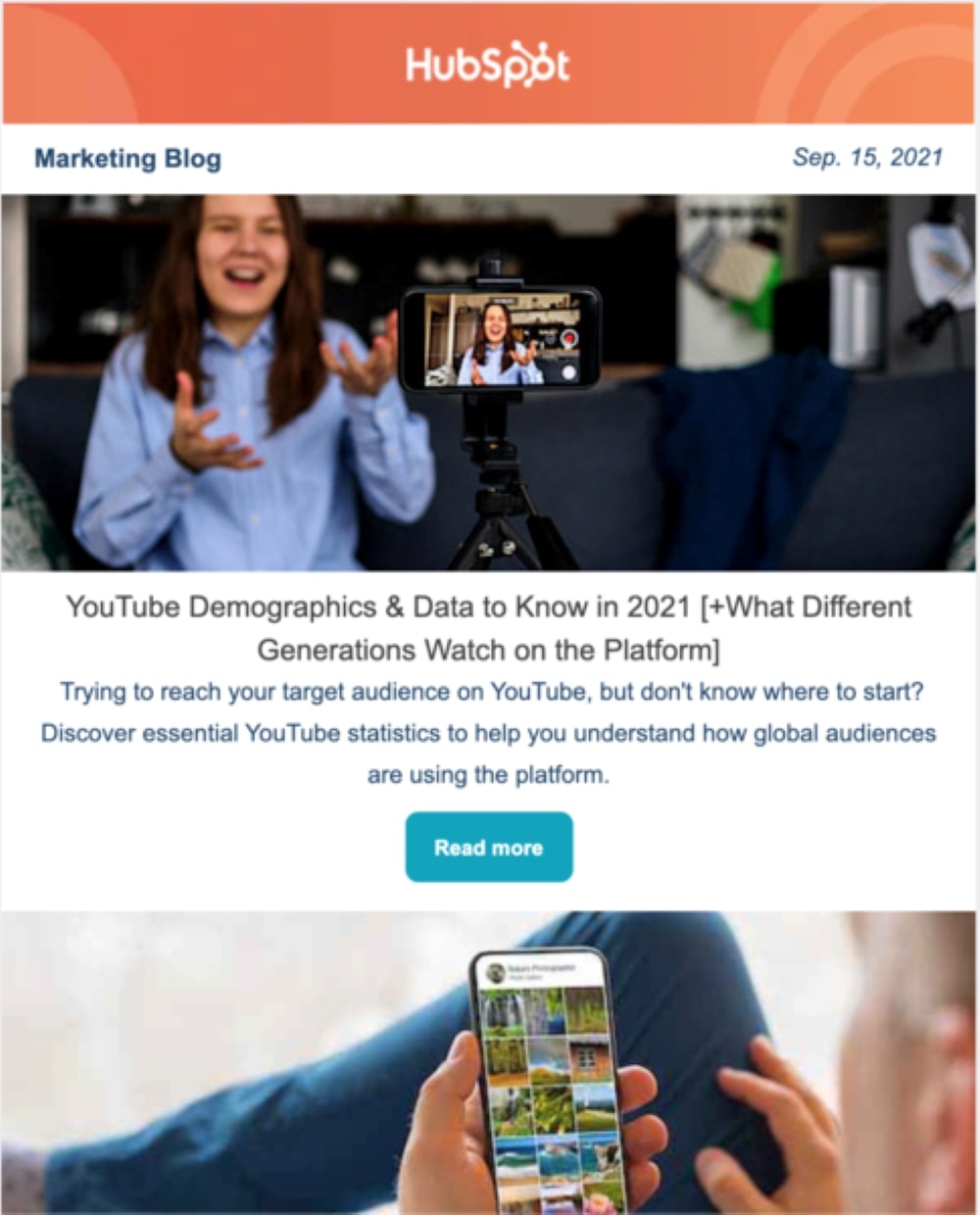 8. Thank you email
Say thank you! Sending a thank-you email is more than just saying thank you for buying a product or hiring your services, but thanking your audience because without them, your business wouldn't exist.
Frankie, from The Dirt Company, sent a beautiful message to all their customers thanking them for their support and acknowledging everything they achieved together that year. The message has a personal touch, giving a little insight into her personal life, which feels like you are talking to a human and not just a generic email.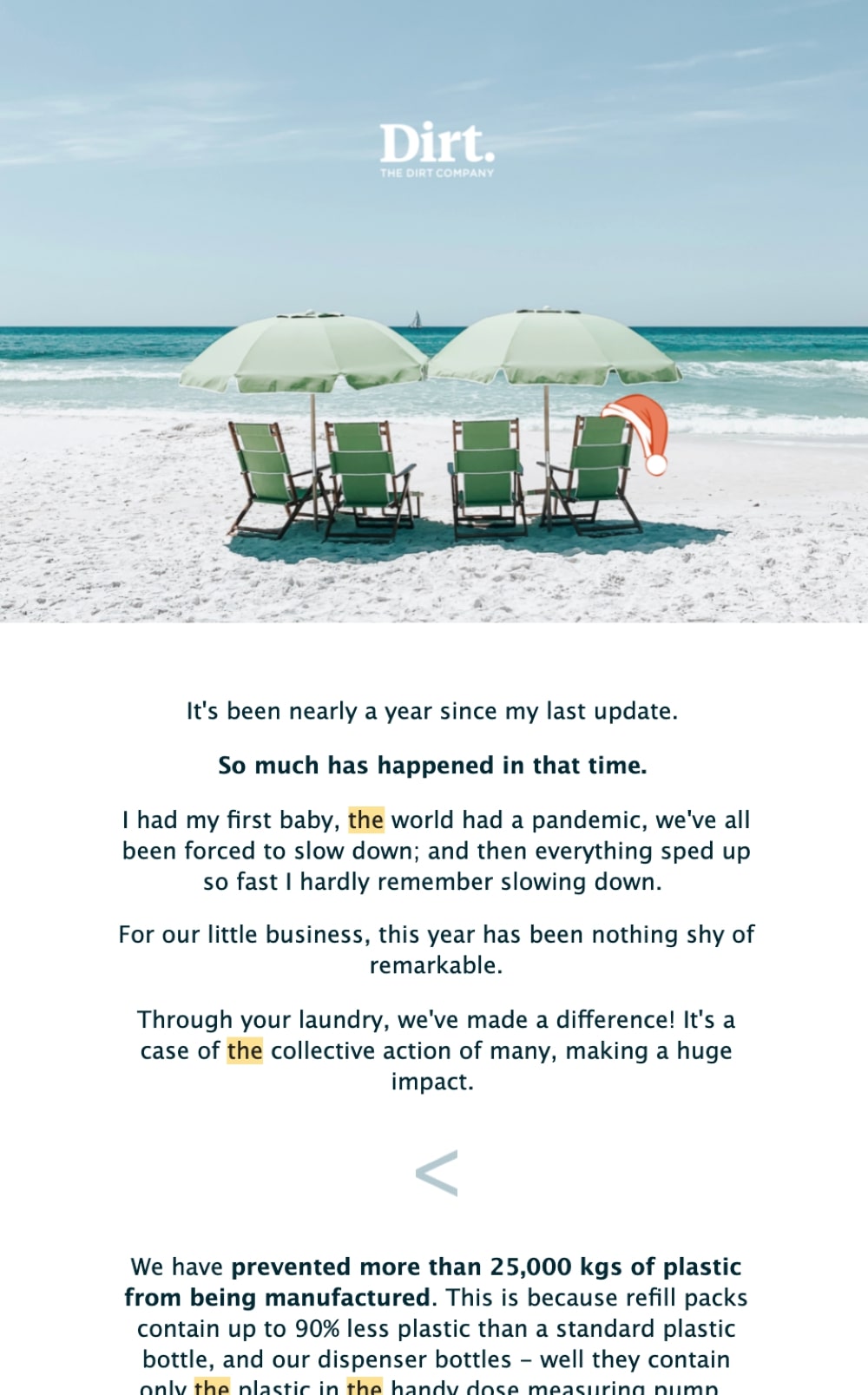 Start now!
The sooner you start implementing these campaigns, the sooner you will start reaping the benefits. Start with the customer journey emails and slowly work your way up to a complete email marketing strategy.