Last updated July 2nd, 2021.
If your business is online, you are familiar with the necessity of optimising your website to keep pace with Google's algorithm changes. However, were you aware that Google My Business is an excellent resource to help you reach local customers and generate traffic to your site?
In this article, we'll show you how to optimise your Google My Business listing. This will lead to improved Google Maps rankings, better reach to potential customers, and ultimately more leads.
Create, optimise & track your Google My Business listing
Basics of Google My Business
What is Google My Business?
Google My Business, also known as GMB, is a free online advertising platform. It is often referred to as Google Maps, as optimising your account can lead to better rankings in Google's Map Pack.
It is especially helpful when connecting those searching online to local businesses able to meet their needs. Addressing and meeting the growing needs of local searches is important to the search engine giant.
How does Google My Business help me?
Think of Google My Business as something similar to telephone directories of the past. Businesses were certain to have helpful and noticeable listings in the phone directory because that is where people went to look for goods or services.
Exposure – When someone searches for your business on Google, your business listing will display on the right side of the search page
Information – Customers get fast access to your site as well as on-demand directions to your storefront with Google Maps
Competitiveness – If a potential customer does a local search for a product you sell, or a service you offer, your business will appear in Google's Map Pack (along with your local competitors)
How do I get listed?
There are a few steps necessary to get a basic business listing on GMB:
Add your business information including the name, address, and phone number (NAP)
Include your website URL as well as your hours of operation, specific information about your company or its goods and services
What can I do to make a better listing?
Improving your listing will help you stand out among the other listings in the same category. You can improve your listing by:
Personalising it with photos of your business, products, and (with permission) your staff
Monitoring your business' reviews frequently. You will want to have the ability to thank customers for compliments as well as get the chance to address concerns or complaints. This is necessary, so you appear responsive and demonstrates your willingness to stand behind your service or product. The interaction helps build strong relationships with your customers, which is always important.
Creating relationships with customers or potential clients by making sure you answer any questions posted in a timely manner (shown below)

A Google My Business customer asks a direction question to the business owner
Beyond the basics of Google My Business
Once your Google My Business account is up and functioning, there are a host of features you can use to stand out from other companies with similar offerings. Interestingly, many businesses do not use the features to their full advantage.
The various features
Claim a URL and a short name
This feature makes sharing your profile easy. It eliminates the typically long URL, and your landing page appears as g.page/your businessname. By using your short name, customers will easily access your profile to get updates, leave reviews, and interact with your business.
Points to remember:
Your short name must be between five and 32 characters
You can put contact information in the short name
Google permits three short name changes per year
Reportedly, the short name feature will integrate into Google Maps
Welcome offers
Shoppers love to save money. This fact is easy to prove by looking at the eCommerce industry report. The Australia Post report showed the habits of Aussie online shoppers. The results were not surprising and showed patterns of increased sales during times of increased online discounts. In response to this, Google offers GMB accounts the option to give new visitors discounts for following the business.
Using welcome offers gives you a chance to:
Attract new customers with money-saving offers
Turn searchers into followers
Encourage customers to visit your page to see what is new
You can quickly create a GMB welcome offer from your account page.
Generate automatic posts based on reviews
Website content is still of great importance in the virtual marketplace. However, creating content takes time. Google now gives GMB accounts the option to allow Google to create posts for their profiles which come from customer reviews.
The concept is not as AI dependent as it may sound. Google tracks the patterns of your reviews and generates short posts using the data. If many of your customers mention the friendly and efficient staff, an automatic post might say "The staff deliver fast and friendly service."
You have the option not to post the automatic content as well as the option to enhance posts with colour and imagery.
Request a quote
When you choose to enable the Google My Business Messaging option, your GMB listing will show a button for customers to request a quote from your business. The feature is simple to use and will help customers get information they need fast and in a personal way. Once you get a quote request, you can respond and interact with potential customers.
Google added this feature believing that businesses will receive many new leads by using the request a quote icon on your GMB listing.
Google assistant
With 2020 projected sales from voice search in the 40-billion-dollar range, integrating voice search into your SEO is inevitable.
Google helps make GMB accounts test the waters by featuring the Google Assistant option. At this time, customers can use Google Assistant to order food delivered via partnering delivery services. Google Pay or another default source facilitates payment. Google Assistant allows customers to look back on old orders, determine the delivery time, or opt to pick up an order placed through this method.
For businesses specialising in food, it will be more important than ever to have clear and consistent menus. Additionally, you should be sure to update your menus frequently.
While not all businesses will find this pertinent right now, using Google Assistant is a trend that will grow rapidly. You should expect to see voice search impacting many other types of businesses in the near future.
Make advertising materials
A feature available to GMB accounts allows you to access a marketing kit and create your own items for use in promotions and advertising. Additionally, you can receive free signs and window stickers that read:
Follow us on Google
Book with us on Google
Review us on Google
This is a simple way to encourage customer interaction on your profile. At the same time, you are reinforcing the connection between Google and your business.
The marketing kit feature allows for poster creation as well. The site's editor option allows you to make a custom design. The posters are printable and also downloadable for online sharing. Adding your touches to advertising materials looks professional, builds brand awareness, and helps you to stand out among the field of competitors.
This is a tried and true method of encouraging customer interaction that brings results.
Auto suggest answers
Often, business owners cringe at the term auto-suggest. In the past, auto-suggest had quite a few bugs to work out; it still may suggest you send your Gran flours instead of flowers on her birthday. However, the Google auto-suggest answers feature is light years beyond the old auto-suggest.
In order to build a feature that can accurately predict where a search query is heading, Google relies on Google reviews and not existing questions and answers.
More ways that Google improved the auto-suggest answers include:
Sentiment analysis
Natural language processing
Matching of nouns and verbs with the query
Machine learning
It is important to note that your customers are not at the mercy of the auto-suggest answers feature. Customers have the option to review the helpfulness of suggestions. Additionally, reviews from your customers dictate what search queries match.
The auto-suggest answers feature will work most effectively when your business has a consistent number of new reviews. This keeps content fresh, and a review from a few years ago will not have much impact on recent auto-suggest answers.
Google place topics
Tagging is a good way to differentiate posts, topics, and other forms of interaction online. Social media made the phenomena somewhat of a must-have for most platforms.
A feature that is a part of GMB keeps track of words appearing in your business' reviews. Google Place Topics operates like a tag cloud through Google My Business on the Google Maps App.
To create the collection of tags, Google looks for patterns and frequently used words used by customers in reviews of businesses. Google places the words as tags in your listing on Google Maps (shown below).
The words appear by frequency. Prospective customers can easily get a sense of what existing customers think about your business. For example, if your sushi restaurant gets many reviews using the word 'fresh', customers will see the word and the number of times it appears in reviews as a part of your profile listing on Google Maps.
The tag system is totally automated, and businesses that do not get enough customer reviews will not have Google Place Topics visible on their profile. Because of this, it is in your best interest to encourage positive reviews from your customers whenever possible.
A pitfall of the automated Google Place Topics is the fact that a negative review can have a detrimental impact on your tags. Additionally, a business cannot edit or explain the negative comment. The only way to remove unflattering comments from your Google Place Topics section is to appeal to Google to have the review taken down.
Choose your images
Google My Business allows users to put a profile cover photo in the image carousel on display as part of the business profile. The image appears near the top of your page, and there is a space for your business logo at the top right of your profile page.
The new options for images are in addition to the name, address, and phone number section as well as your businesses' hours of operation. You should remember that when it comes to the photos, you use to represent your business, quality matters. In addition to assuring you add clear images to your page you should:
Use only relevant images – If you no longer offer freshly made tableside guacamole, do not include images of it. Adding photos, or failing to remove them, for the sake of quantity will not improve your image.
Add new images frequently – After you have the basic images that represent your business in place, bringing more into the mix will not be difficult. Add new images a few times a month to keep things fresh.
Review photos added by the public – GMB allows customers to add images to your page. Their logic is that this will create a balanced image of your company. However, not everyone should be trusted to act fairly. Consistently check the photos on your page. If you want an image removed, you must report it to Google.
If you are tempted to skip adding images to your GMB page, remember that a report released by Google revealed businesses with photos had a 35% higher click-through rate as well as 42% greater number of requests for directions to the business.
Tracking Google My Business traffic
Google continues to bring us improved ways to manage our advertising, improve rankings on search engine results pages, and keep track of our most successful advertising techniques.
Tracking Google My Business traffic is crucial to measure its impact on your digital marketing campaign.
Why do I need to track Google My Business data?
Google My Business offers you control and information regarding your web page. However, without taking the next step into tracking the data from your GMB, you will only see visits to your site as 'organic' visits. You cannot decipher the source of your site traffic or the sales that take place. Without knowing the point of origin, you miss out on information that lets you see what strategies are working.
The information you gain from tracking Google My Business data can help with:
Staying proactive regarding adjustments to campaigns
See where your company stands online
Understand how users interact with your Google My Business
Learn the positive and negative aspects of any changes you may have implemented
Find out what site visitors do after they land on your web page
How can I track traffic from Google My Business?
To find out the sources of traffic to your site, you need to set up your Google My Business account with an Urchin Tracking Module. Commonly known as UTMs, adding this snippet of code to your URL will give you insights regarding your GMB success, as well as places to focus on improvement.
How can I implement the UTMs and track my website traffic?
Once you have a Google My Business account, you can keep track of it in Google Analytics by adding a custom UTM code to your site's URL. The process requires a few steps and can make a significant difference in how you can make your data work for you.
STEP ONE – Choose what pages you will be tracking. Typically, you will drive visitors to one of the following pages on your website:

A contact page
Your site's homepage
A specific location (useful if your business has multiple locations)
STEP TWO – Create modified URLs for tracking. These URLs will have the UTM code attached. The additional code will not change your pages or customer experience. UTMs define the specific information you want to be collected.To make these URLs, go to Google's Campaign URL Builder. Once there, fill in the requested information and Google will generate your modified URL with the appropriate UTM attached.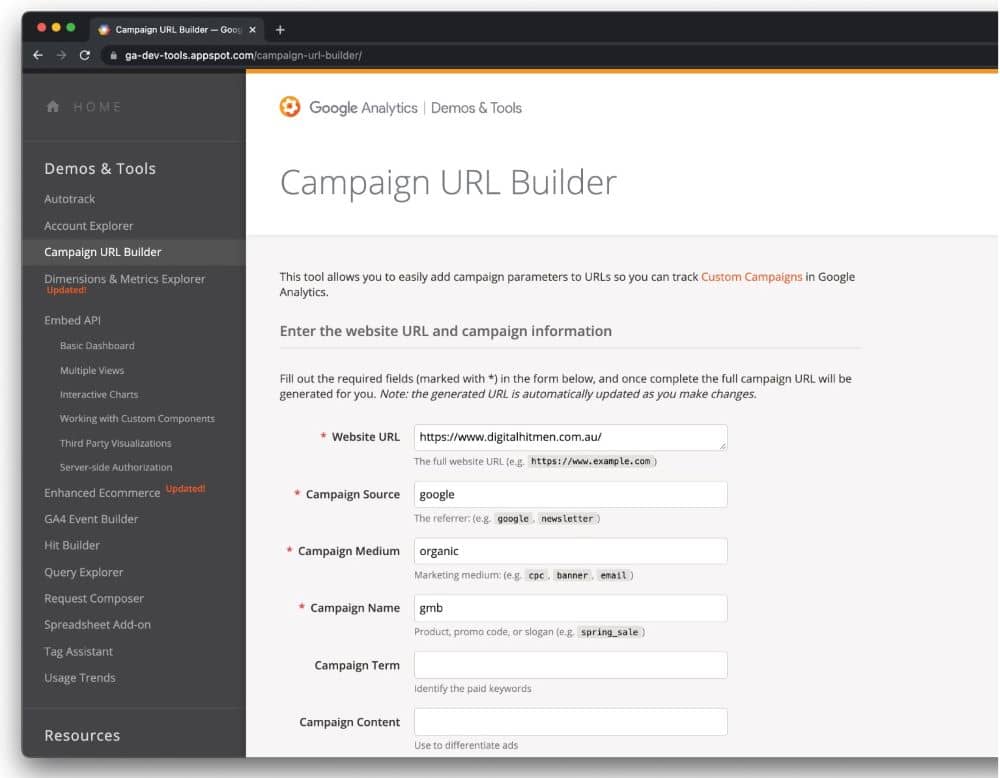 STEP THREE – Copy and share your new URL to begin the tracking process. Use the campaign URL in all of the channels you want to be connected to the custom campaign.
Note: If you have multiple listings or various locations, be sure to add an identifier to the URL, so you will see the data separated and not in a single jumbled collection.
STEP FOUR – Login and update your Google My Business listing, so Google is up to speed with your changes.

Select your listing to update
Click 'Info' on the left side menu
Scroll until you find the URL you are presently using
Click the pencil icon to edit and substitute your new URL
Click 'Apply' to save your changes
Note: You will likely receive a warning message apprising you that your changes are under review and the changes may take up to three days to implement. Most simple changes will take place rapidly, if not immediately.
STEP FIVE – Log into your Google Analytics account to see the difference in how your data looks. You can do this by going to Acquisition -> Campaigns -> All Campaigns. There, you will see a campaign titled 'gmb' (after a few days of data populating).
What specifics can I learn from using UTM tagging?
Your UTM tags generally answer a specific question such as:
What is the source of my traffic?
How are visitors to my web page finding me?
What is the reason this traffic is coming to my site?
To make this tracking possible, you need to use UTM parameters. The parameters work to direct specific data into groups, so you can get the information you want.
Five UTM parameters that exist to help focus your data
Campaign – The parameter allows you to see what specific promotion or advertising campaign drew in your traffic. The ability to tease out such detailed information can save you money and will enable you to fine-tune campaigns that are performing poorly.
Content – Frequently, business owners use the content parameter to determine which part of an advertising campaign received clicks. The information is valuable for optimisation purposes.
Medium – The UTM medium parameter shows which marketing channels bring visitors to your website. The information allows you to make a targeted approach to areas where you see results. You can also revamp, reduce, or eliminate facets that perform poorly.
Source – The source parameter identifies what site is bringing visitors to you.
Term – Using the term parameter allows you to identify the paid keywords that your campaign is targeting manually.
Make the most of the data you have compiled by tracking your business performance
Once you have the analysis from tracking your GMB, you can find information to help you going forward. This includes but is not limited to:
Discover areas where your company's online presence is lagging and address the issues behind the performance
Note how recent changes impacted your GMB both positively and negatively and respond accordingly
See how site visitors interact with your GMB listing and identify areas to enhance
Key performance indicators to study and record
You can easily find yourself a bit overwhelmed with all of the information you collect after implementing the traffic tracking on your GMB. To help you stay focused on items of primary importance, here are key performance indicators (KPIs) that business owners should record and study every month.
Customer actions – After implementing the UTM tracking, you will see how your customers interact with your GMB page. This includes clicks to call, directions, and actions after the visitor see your website
Customers who searched your Google My Business – Learning where those clicks come from is extremely valuable. The GMB dashboard offers information that shows how much traffic comes to you from one of three locations:

Direct – Customers find your GMB listing by searching for your business by name or address
Discovery – Customers that search for a particular product or service and see your GMB listing
Branded – Those customers who find you because they are looking for a brand associated with your business

Webpage views and traffic – Employing the UTM allows you to see how many people viewed your web page and precisely segment the traffic resulting from your GMB listing
Where your visitors see your company on Google – Find out if the searches are on Google Maps, searching listings, or other parameters that impact searches
UTM best practices
It is easy to understand why a business person would be eager to begin tracking their traffic using UTMs on their Google My Business listing. However, take a moment to review some details to help you to get the most from your UTMs.
Naming – Make sure that you and your team all use the same process to name your custom URLs so finding what you need is easy. Ask yourself:

What promotions or features run regularly that ought to use the same name each time?
How do you define the 'medium' of a source?
Do you want your sources to be very granular?

Case Matters – The UTMs you create are case sensitive and lowercase letters are the way to go with this. Consistently using lowercase will save you time and confusion in the long run.
Moderation – Even though UTMs are useful, it is not wise to create scores of them merely because you can. Rather than wasting time and effort making UTMs, decide how you plan on using the information you gather.
Drive more (local) leads to your business
Using the Google My Business features is a smart decision, especially since these are brought to you by the number one search engine in the world. The market is not completely saturated, and there is room for small businesses to establish themselves and carve a niche.
While getting started with the Google My Business platform may seem like a large undertaking, Google has put a solid and easy to use system in place for these features.
Above all else, do not pass up your chance to distinguish your self from your competitors. Google is handing you a golden opportunity to increase traffic, create conversions, and build your brand. You do not want to miss out on this chance.