Whether you are new to the online marketplace or have years of experience under your belt, you want to get the most for your money, right? While using your advertising budget wisely sounds like a simple goal, figuring out the best strategy is far from simple.
Two online advertising components of Search Engine Marketing (SEM) presently dominating the landscape are Google Ads and SEO. Knowing this, the biggest question for most small to medium-sized businesses remains, which option is best for my company?
In order to begin to answer that question, let's take a brief look at both Google Ads and SEO.
What is Google Ads?
Google Ads, formerly Google Adwords, is a form of online marketing focusing on pay per click data.
For example, if you are using Google Ads for your company and a searcher looks for one of your keywords in your designated location, your website will show in the search results. Typically, your site will have a prominent location and stand out from other listings.
If the searcher clicks on your advertisement, Google records this, and it counts among your clicks. Google determines the amount you pay for your Google Ad and preferred location by the number of clicks your ad receives.
Why would I want to pay per click?
Why you should pay for Google Ads is a common question with a few answers, including:
A Competitive edge – Approximately 60% of searchers click on the top three results on the results page. By paying to put your ad on top and making it stand out, you are gleaning clicks from other listings.
Speedy results – Your ad will begin attracting attention right away. These results are in contrast to the nature of SEO, which takes time to develop (more on that later).
Easy to track  – Google Ads is constantly tracking activity, so you are able to find out important statistics as they relate to your ads and searcher responses.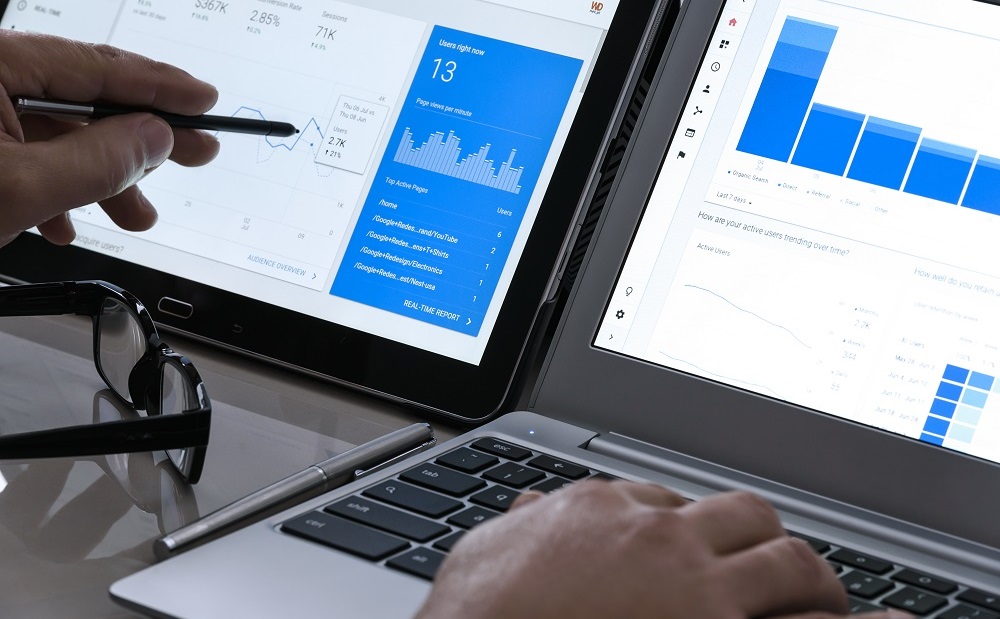 What is SEO?
SEO (Search Engine Optimisation) is a term that consistently attracts attention in the digital marketing arena. Essentially, SEO is how you get your business listing to the top of the search results page.
Ranking on the first search results page (preferably in the top three search results) takes a while. The process can be involved and consume a good deal of time and attention because the algorithms Google uses to rank search engines change. The changes typically necessitate some adjusting to your company's SEO strategy.
Creating a dynamic and effective SEO strategy is a process that constantly evolves. It's not something you can set and forget.
Why is SEO important? 4 reasons
Businesses frequently see the ins and outs of SEO as particularly daunting and wonder if SEO really matters. However, SEO is a method that is necessary for increasing your share of searcher attention, as well as increasing your profits.
Here are the top four reasons SEO is relevant (and will remain relevant in the foreseeable future):
1. Crucial statistics
Give a few numbers regarding SEO a passing glance, and you will likely be amazed at the impact SEO has on businesses. For example:
2. Trust issues
While there is not a single documented reason to explain it, online searchers tend to distrust paid search results. If your Google Ad fails to grab attention or create an interaction, you stand to lose business. Solid SEO practices will keep your listing in front of potential customers.
3. Convenience
Searchers will not spend time weeding through several pages of results. In fact, more than 67% of searches come from the first few results on page one.
4. Voice search
With voice search becoming a dominant force and projections of continued use and growth, excellent SEO is life or death to your business. The typical voice search assistant will offer two or possibly three options to queries.
Because voice search will only continue to grow, businesses once content with landing on the first page of a search are now battling each other for the top three spots of a search query.
How do I know if SEO or Google Ads is a better choice?
An important fact to keep in mind when looking at SEO vs Google Ads is you are not in an either-or position. Both options can be useful for your online marketing plan. You need to look at several factors to decide which of these SEM choices will impact your business the most and put your focus there.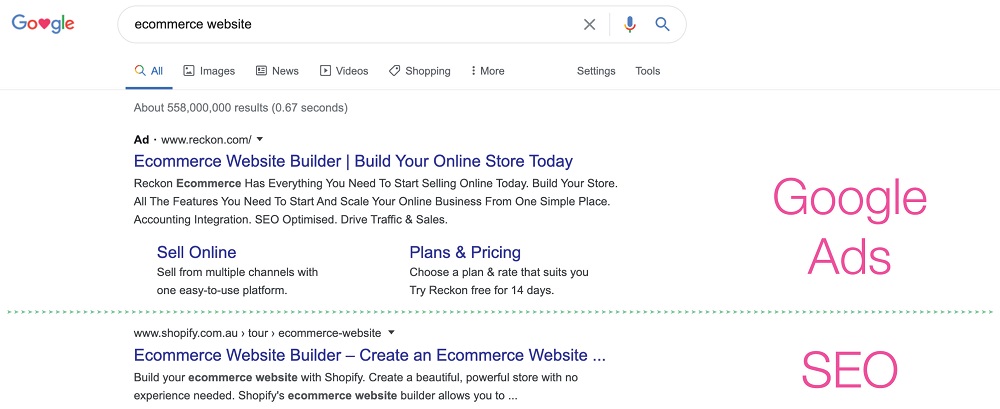 How do I determine which option impacts my business the most?
Scores of data exist that can dig deeply into the heart of your existing online marketing. Interpreting that data is another matter altogether. In place of an in-depth session on the ins and outs of SEM, here are three questions to ask that can show you where to focus.
1. How good is your website?
There is no space for waffling here. You need an honest look at your page's structure, load speed, and ease of use will help direct your focus.
For example, your site's focus is sports memorabilia. If you have poor site organisation, a customer who is searching for autographed photos from a specific team will likely leave your page if they have to sift through pages of unrelated items and other team merchandise. When this happens, and you have Google Ads, you pay for a click that netted you zero conversions.
If your site is well designed, the searcher clicks on a few tabs then they are viewing the types of merchandise they want. The odds of a sale and even a returning customer are great. In this case, with Google Ads, the price of a click earned a conversion.
The same ideas apply to load speed and usability. Putting a great deal of money towards Google Ads will not provide a strong ROI (return on investment) and could cost you money.
2. How fast do you want growth?
If you are looking to see fast results, Google Ads is a smart place to start. Starting a Google Ads campaign is quick, and it nets results in as little as a few days.
SEO takes more time to build and grow organic results. It is important for overall success but will not make an immediate impact on your bottom line.
3. How long has your business been part of the digital marketplace?
If your business is well established and has a successful SEO campaign in place, focusing on its improvement is a smart idea. Because consumers trust ads less than organic rankings, improving your position on the search page is paramount. This does not mean you cannot put some advertising money on Google Ads, but you may not want to allocate your advertising money that way.
If your business is just getting off of the ground, Google Ads is the best place for you to take your advertising budget. Do not make the mistake of ignoring SEO but build your search rank while using ads to get the best short- and long-term results.
As stated, sites needing fast results should look to Google Ads to drive customers to their webpages.
An important part of your digital marketing success
As you can see, Google Ads and SEO are not two competing entities. In many instances, a business does well to use both to further its share of the online marketplace.
Navigating the virtual marketplace can be difficult and frustrating. However, success in the digital world is critical for your company's survival.
Consider bringing on professionals who are skilled with SEO and Google Ads. Not only can they point you in the right direction, but digital marketing pros can also guide you to a successful finishing line.
Ready to begin your digital journey with digital marketing pros? Contact us today, and let us guide you to success.