There is an old saying that warns us, "You get what you pay for". Whether that applies to a prime cut of meat, new furniture, or a holiday, the idea generally resonates with most people.
While it is relatively easy to apply the principle to very concrete examples, getting what you pay for when it comes to your company's marketing budget is a bit more difficult.
In this blog, you'll learn how to easily calculate your marketing budget, how much you should allocate to digital marketing, and what to expect from different tiers of investment.
Setting your marketing budget
Naturally, one of the first questions asked by those thinking about a marketing budget is, "How much should my marketing budget be right now?". Unfortunately, answering this question is not as cut and dry as many would like.
Some big companies spend 20% of their yearly revenue on marketing. Other companies are dominating with only 2-7% spend (rare, but it can happen). Truth to be told, your marketing budget will depend on a number of factors such as revenue, the size of your business and desired growth, your industry and competitors, so let's dive in:
1. Your company's revenue
To begin, you must have a clear picture of how much money your company has available to put towards marketing. Generally, you will get the most accurate account if you opt to look at the gross revenue, as opposed to the estimated income.
To answer the question, "What should my marketing budget be?" start by learning your revenue [One important aside, revenue is often confused with income. By definition, income is what your company earned minus the cost of business. Revenue is the money received in exchange for goods or services.]
For some business owners, a quick call to the Chief Financial Officer gets the desired information. However, if you need help, here is a quick rundown of how to calculate revenue:
Determine the selling price of each unit you sell
Calculate the total number sold
Multiply the selling price by the amount of each item sold. This gives you the individual revenue for each product
Add individual product revenue to get total revenue
For example: Brenda's bakery sells croissants, loaves of bread, and muffins. To calculate last month's revenue, multiply the price times units sold and add the categories:

Croissants sell for $3.00 X 2,000 units sold = $6,000
Bread sells for $10.00 X 700 units sold = $7,000
Muffins sell for $6.00 X 4,000 units sold= $24,000

Brenda's bakery monthly revenue is $37,000 ($6,000 + $7,000 + $24,000).
2. Age of your business (also called 'size' of your business)
Have you been around the block a few times, or are you just breaking on to the scene? Typically, a company established for over five years that has a part of the market share will spend less than a newer business. This is because the new company needs to develop brand recognition. As well, a lower revenue than an established business will mean that the percentage of their total revenue designated to marketing will be greater as well.
If your business is over five years old, you should expect to spend approximately 6% to 12% of your marketing revenue. In the case of the bakery example, if the company is over five years old, the amount would be between $2,220 and $4,440 per month
For a business less than five years old, expect to spend 12% to 20% of your marketing revenue. If the example bakery is under five years old, the company will spend between $4,440 and $7,400
For example: Myles' catering company is in its 12th year of operation. His name and the quality of his food are well-known by those in the Perth CBD. Nikki opened her catering business, a few blocks away, 18 months ago. Even though her quality and prices are comparable to Myles, Nikki will need to spend more on marketing to attract customers and build her share of the market.
3. Goals of growth
Asking a business owner how quickly they want to grow may seem to border on ridiculous. However, before pumping thousands of dollars into marketing, any company needs to consider if they are poised to meet the increasing demands a successful marketing strategy will deliver. Being unprepared and under-delivering will eliminate any positives your business may have been experiencing.
4. Industry-based marketing spending
One significant variable in determining your spending on marketing is your industry. It stands to reason that a difference in a business's marketing budget as percentage of revenue by industry exists. Even though retaining customers and maintaining brand awareness are two consistent factors to companies in general, the amount spent to accomplish this varies significantly from sector to sector.
For example: A field closely tied to the customer, such as Consumer Services, spent nearly 20% of their revenue on marketing. Conversely, the manufacturing industry spent only 3.2% of its revenue on marketing.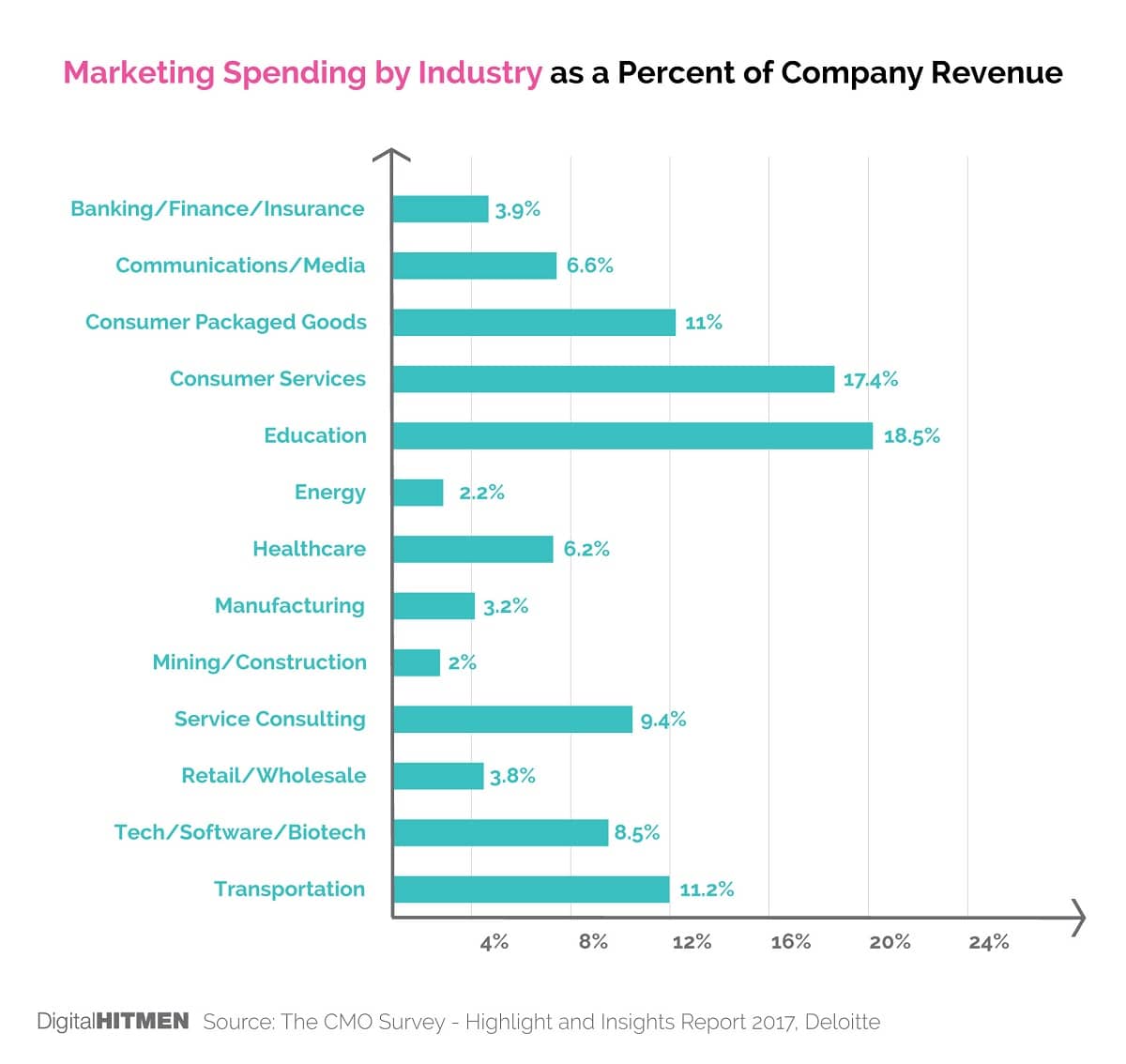 5. Competitor spend
One way to help you decide how to spend your marketing budget is by learning how the competition spends its money. Why? because if your competitors are spending 10-15% of their yearly revenue on their marketing and you're spending 0-5%, then you will stand no chance against them.
When talking digital marketing spend, here are three simple ways to see where those competing with you put their money:
Google search the key terms you want to use – Once you see who is ranking on these terms, and if these are paid ads or appear on Google Maps, you can make adjustments to your budget. If your main competition is a big name brand with excellent ads and a website to match, you will likely want to up your marketing spend. However, if the company is more of a fly-by-night outfit with a shoddy Internet presence, you can position yourself to overtake them.

Look on social media – If you do not see the competition running YouTube ads or notice their ads on your social media feeds, then they are most likely not spending much money.

Tip: You can easily see your competitor's Facebook Ads through their Facebook Business Page:

Try tools like SEMRush or Ubersuggest – These analytics tools provide a wealth of information to help guide your digital marketing budget. You will quickly see:

Which companies rank for what terms
How much authority they have and how powerful that authority is
The keywords they rank for
For a quick marketing budget estimate you can use our marketing budget calculator below. It will show you your ideal marketing budget based on what the leading companies around the globe are doing.

Marketing Budget Calculator
Calculate your ideal marketing budget in seconds using our FREE tool
How much of your marketing budget should go towards digital marketing?
Deciding how much of your marketing spend you will devote to digital marketing can be tricky. Suggested amounts vary depending on which expert you are consulting. Each company will have different goals and needs, but according to recent surveys, the average business devotes 10-40% of its marketing budget to various kinds of online marketing. Of course, the actual amount a company spends on digital marketing depends on how much the business in question relys on the internet to generate its revenue.
If that seems like a considerable portion of your budget to you, here are a few statistics to help drive home the necessity of online marketing.
A 2019 survey found that marketers expected to earmark 66.8% of their marketing budget to digital by 2023
The areas of paid search, social media advertising, online video advertising, and email marketing take up nearly 50% of advertising in 2021
Social media marketing saw a 17% growth rate
Let's talk money: what can I expect from my level of digital marketing investment?
Once you have crunched your numbers, set your goals, and studied your competition, you will want to know what you will get for your money. As digital marketing is our bread and butter, we will focus on this. Here's what you should expect for your money:
Tier one
$1,500-$5,000 a month
This entry-level amount will allow your business to make meaningful improvements. Some specifics you are likely to see with an entry-level marketing budget include:
A good website
Fundamental email marketing
Fast hosting
SEO that is both quality and sustainable
Some marketing on social media sites
Tier two
$5,000-$10,000 a month
The intermediate level of marketing spend gives you room to build on the foundation laid with your entry-level budget. Naturally, there is a gap between what is possible as you move closer to the $10,000 a month-end of the spectrum. Typically, you can expect the following from this budget range:
Paid Google Ads that perform well
An impressive website
Social media marketing across several channels
Organic Google rankings
Inbound leads
A reliable sales pipeline
Tier three
$10,000-$15,000 a month
When your budget is in the third tier, potential customers will see your company everywhere. Potential for dominating your market opens up, and you will find the following enhancements:
Aggressive SEO
High Google rankings for competitive search terms
Marketing automation
Retargeting
Conversion funnels
Top-notch ads for paid media
YouTube ads
Tier four
$15,000 plus per month
At this level of spend, you will look at:
Media investment – A portion of your marketing budget paying for the many clicks your ads get on Facebook or Google. The amount you pay here recoups itself.
SEO – You will be dominating your niche and taking part in content creation campaigns and aggressive link-building.
Remember, if your budget is less than $1,500 a month, you will be better off taking care of your marketing in-house. Quality marketing agencies will decline to take on clients with this budget because they know that they will not make meaningful changes.
Marketers who accept clients with budgets of less than $1,500 a month will resort to cheap tactics that end in Google dropping you down to the bottom of the SERPs.
Need help setting your digital marketing budget?
If working through the various points and creating a marketing budget example seems overwhelming to you, consider working with seasoned experts who know the ins and outs of digital marketing.
Contact us today and we'll propose a strategy that's right for your business.