When is the last time you thought about your SEO and search ranking? Many business owners believe that optimising is a one and done proposition. This is not the case, especially when considering local SEO rankings.
Why should businesses focus on local SEO?
SEO rankings still matter, a lot. However, local search rankings are more important than ever. Your company connects to your community through local search.
Missing the mark on local SEO can have disastrous consequences.
Local reach allows for easy connections with those near you. Because of the proximity, these consumers are likely to become your customers.
Good local SEO helps businesses build partnerships in the community
You get a higher return on investment than with other optimisations. Local pays off.
Your business gains authority when you rank highly on local searches
A local approach works great with mobile devices. This is huge as more people depend on mobile instead of personal home computers.
Can local customers find you?
Think of local SEO as a bridge connecting you to customers in their homes, at their jobs, and during leisure time. Can local consumers get to you easily? If not, you need to fix your bridge.
Results of a recent survey shows consumer behaviour in the online marketplace:
27% of consumers conduct daily online searches for local businesses
Of daily local searches, 18-34 year olds account for over half. Slightly over a quarter of 35-54 year olds conduct daily searches for local businesses.
Reviews of local businesses are increasingly important as 86% of consumers report reading reviews
Responses to reviews also matter; 89% of those surveyed read responses
Mange your online reviews: Local searches are heavily dependent on consumer reviews. Be sure to monitor and respond to the information from your customers.
How do I build a local SEO campaign?
Here are several steps a small business can take to create excellent localised SEO. (NOTE: in this article, each step will be clarified in further detail below.)
Use effective keywords
Plan a strategy for backlinks
Make comprehensive site optimisation a priority
Use best practices to reap the benefits of your presence on Google
Learn about competing businesses
Use effective keywords
Planning your keyword strategy is not as simple as in the past. Matching up your keywords to potential searches is not enough. Search engines are sophisticated and interested in providing consumers with valuable information.
Create a keyword list
Google offers several tools that can help you create a list of good keywords. Some of the most useful Google-based tools include:
Google Ads has a Keyword Planner that can make a useful list of popular search words. Within the Keyword Planner, you can access a section called Forecasts. This will provide a refined set of data.
Google autocomplete predicts search phrases based on popularity or how well terms relate to each other
Google Trends allows you to see popular search items. It also has numerous insights to allow you to track trends over time. For example, if you're considering selling fidget spinners, you've probably missed the boat:

Google Trends can help you identify search trends over time
TIP: Use Semrush to get more specific data (and even more keyword ideas). Plus, you'll be able to see the keywords your competitors are ranking for.
Evaluate keywords and decide what to use
Check the search volume. The search volume measures the average monthly search numbers for a word. This defines your KEI (keyword efficiency index) by showing your volume to your competitors' volume.
Look at keyword difficulty to see if you will struggle against your competitors to rank using particular words
Create a keyword map
Using the keywords gathered through your research, organise them into clusters based on topics, search intent, landing page (on your site), and other metrics. This will help you collate a solid understanding of what keywords to target on specific pages throughout your website.
Backlinks strategy
Backlinks are an effective way to boost a small business' SEO. However, not all have equal value, and some backlinks can do more harm than good.
What backlinks do I want?
Most backlinks fall into one of three categories:
1. Links that boost your SEO ranking
These are the links that search engines, like Google, value. These include:
Links to great content from relevant and authoritative sources
Genuine guest blogging links. Google has no respect for using out-of-context guest blogs to gain links. However, the search engine still stands behind guest posts that educate site visitors or bring awareness to a cause or business.
Acknowledgement links from participating in industry-related events
2. Links that add brand awareness
While they do not bring huge SEO value, these links bring visibility, attention, and traffic to your business. These include:
Links in business profiles
Social media posts with links
Press release links
Links from a post's comments section or bio
3. Links that cause more harm than good
Even though Google often warns businesses to avoid these damaging links, the notion of fast and easy links is often too much to resist. These include:
Paid out-of-context links (usually from bloggers or sponsored guest posts)
Links appearing on sites not relevant to your business
Links appearing on forums or directories known to be poor quality
Links placed by attackers trying to sabotage your SEO ranking
Vigilance pays off: It is worth the time and effort to examine links to your site. A simple way to check your links is using SEO SpyGlass.
How can I build good backlinks?
Examine your current situation – This is especially important if you have given backlinks little or no attention. You can use Google Search Console, Google Analytics, or the SEO SpyGlass tool to see who is linking to you. You should disavow backlinks that are irrelevant or from bad sources.Note: We only recommend disavowing links under certain circumstances. For more information, refer to this post by Neil Patel.
Look over the profiles of your competition – Viewing your competitors' backlinks is a good way to see where you stand. It also helps you find potential resources for new backlinks.
Find good sources for new links – Use Link-Assistant.com to help you find prospective sources of quality links.
Offer your assistance – Connect with local media to get backlinks. They are often happy to get quality and relevant content.
Prioritise site optimisation
Site optimisation is an area that small businesses need to address regularly. An unresponsive site with broken links or a poor design can mean death to a business. Successful site optimisation focuses on search engines as well as searching customers.
For practical purposes, businesses gear the bulk of search engine optimisation to Google. Keep in mind that this is an ongoing process. Because of new technology and advancing algorithms, there is not a point you can reach where you can feel as if your optimisation is complete.
How do I optimise my site?
Monitor technical integrity – If your site possesses technical problems that make it unresponsive, it can be game over. Look for problems with performance, speed, or reliability before starting any other optimisation work. Try Google Search Console or Semrush for help finding issues with your site.
Check your content – The task can feel daunting because you are working to please machines and humans with your content. Organisation is the key to success here. Group information logically with headings that make your content easy to skim and keep the site relevant and informative. Avoid old keyword stuffing practices and focus on the intent of the consumer's search, not exact phrasing.
Optimise images – Even though search engines learn the meaning of images, take the time to fill in the empty alt-tags for your images.
Improve your speed – Slow site loading time can kill your business. While speed matters to personal computer users, it is a larger factor among mobile searchers. A recent survey showed that 53% of mobile searchers abandon a site that takes more than three seconds to load. Take advantage of the GTmetrix website speed and performance optimisation tool to help with increasing your speed.
Use structured data – The top ten blue links are not the only way to grab attention on Google search pages. Using structured data allows your site to appear in various sections on a search page, including a video carousel, answer boxes, and reviews. Google also offers a testing tool to help you add the right information.
Optimise for mobile and speech use – Consumers rely on mobile and speech search devices more than ever. The trend shows no sign of slowing, given that approximately 50% of all consumers will use voice searches by 2022. Take advantage of the mobile-first indexing feature that prioritises site optimisation for mobile users.
Mobile matters: There are more than 20 million mobile phone users in Australia. No business can afford to neglect that population.
Use Google Maps
Taking advantage of Google Business Profile is a cost-effective strategy for small businesses. It allows you to communicate with your customers as well as those searching.
Take the Digital Hitmen Google Business Profile listing, for example:
Google Business Profile also helps build credibility to increase SEO. You can talk to a consumer from the search results page in a single interaction while boosting your SEO ranking.
As you can see from our listing above, we can showcase reviews, case studies, contact information, the latest company news, team images, videos, links to our social media accounts, and much more.
What are some useful features of Google Business Profile?
Posts that appear on the Google Knowledge Panel – This is a large section of the Google search page results for mobile and personal computers.
Opportunity for reviews – Customer feedback can help influence searchers to try your business. Reviews are one of the factors in determining local SEO rankings and an excellent opportunity to interact with customers.
Question and answer section – An ideal way to interact with consumers, the Q and A section sometimes goes unnoticed by businesses. You could be missing some golden opportunities by neglecting this section. You should review all posts daily because other Google users can comment on your Q and A section.
How can I promote my business on Google Business Profile?
Using Google My Business can help you highlight your business. It is very effective for small businesses and can help to boost your rankings. Be sure to follow these tips to optimise your GBP listing:
Categories matter – Choose the category closely related to your business, service, or product.
Describe thoroughly – Do not be afraid to let your business shine with glowing descriptions.
Show who you are and what you do – Post videos or quality photos of you, your employees, and your business to help people connect with you.
Include relevant contact information – You will want your business name, address and phone number to appear. You should include the hours of operation, forms of payment accepted, and any special information like holiday hours.
Details, details, details: Precision is key to attracting the traffic you crave. Be sure you mind all of the details on your web page. Remember to update information as needed.
Know your competitors
Many business owners think of competitors as businesses with similar goods and services in the same area. While these are competitors, you need to look further when it comes to local SEO.
Your competition also includes the businesses ranking for the same keywords as you (in a larger geographical area).
What do I need to learn about my competition?
When researching the companies with higher SEO rankings, you should learn a few important details. Semrush is a good way to get information about other businesses.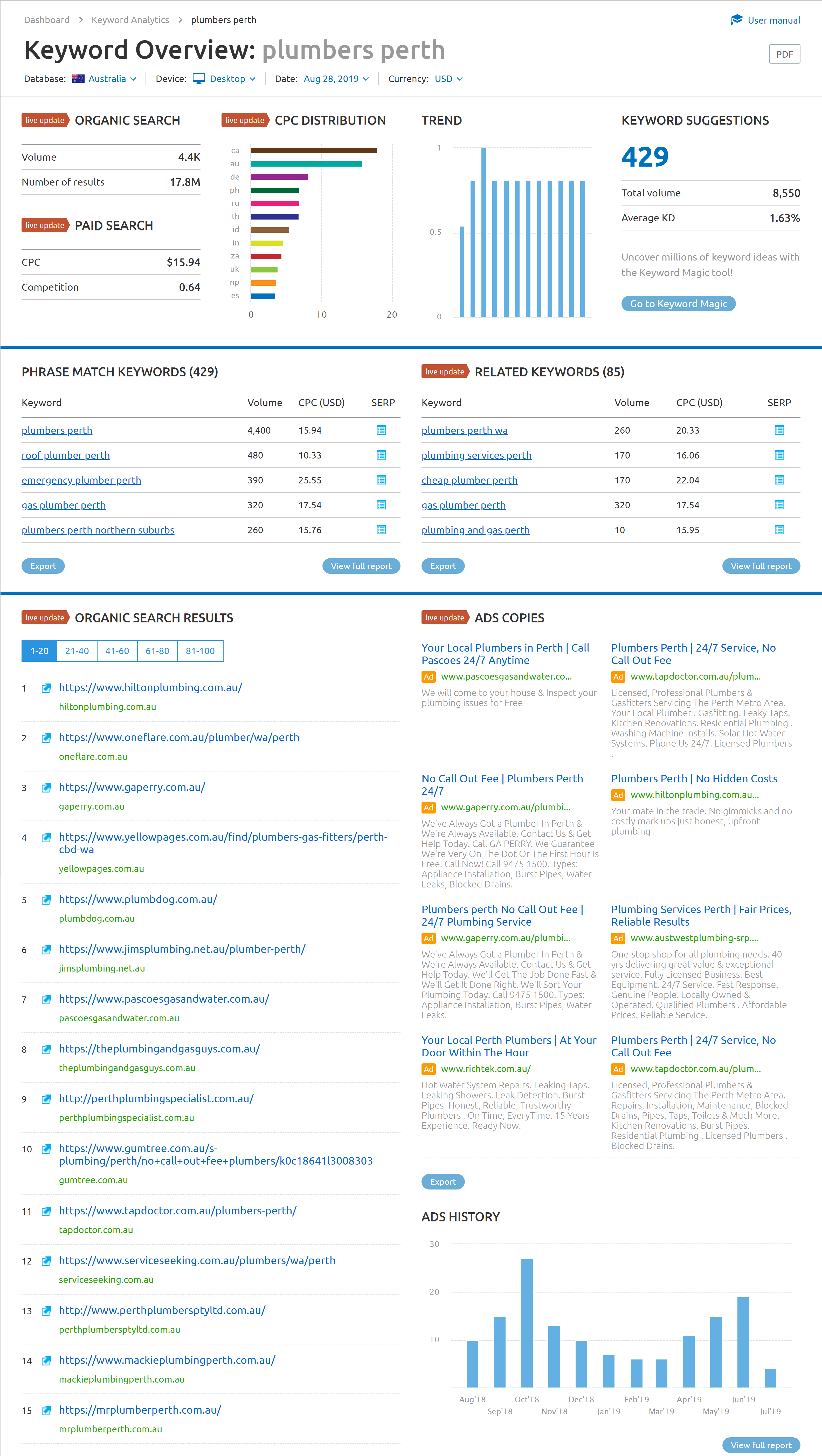 Semrush enables you to:
List your competition – Semrush allows you to easily see your competitors for a selected niche or keyword.
Find stats – Discover what keywords your competition is ranking for, which pages visitors are landing on, their search traffic over time and other key stats.
See how your competition organises their page – Semrush will indicate the structure of competing websites. You can use this to learn how to improve your site.
Check backlinks – Find your competition's backlinks and assess their strength. You'll be able to source some of these links yourself (this is known as the copycat method).
Content strength – Learn about the quality and strength of competing content.
Is your small business prepared for local SEO success?
Properly executing effective SEO is an important facet of your business. Many business owners believe they can give their SEO a quick once over now and again with no repercussions. This belief has damaged many good businesses, often beyond digital repair.
If you need further assistance with any of the tactics or tips listed above, contact our team of SEO professionals here.