Email marketing still provides you with one of the most significant returns on investment, about $42 for every $1 spent. With such an outstanding ROI, you may want to ask yourself why your business is not taking advantage of email marketing?
In this post, you will learn how what email marketing is, the benefits, and how to get started.
What is email marketing?
Email marketing is a combination of digital marketing and direct marketing, where you reach your target audience via emailing information to them.
It is also much more. You can develop strategic campaigns based on email recipients' reactions, increase brand awareness, and build relationships with your customers by staying in touch between purchases. When you use email marketing, you have a wealth of opportunities that go beyond conversions. Email marketing has several ways to help your digital enterprise.
The top five benefits of email marketing
While there are many benefits of using email marketing, here are the five most universal plusses to email marketing.
1. Drive traffic to your site: Using emails, you can help direct traffic to your website, social media accounts, or to specific pages that feature events happening for a limited time. An added plus is that when you increase quality traffic to your website, you boost your SEO.
2. You can personalise the content in your emails: When talking about email campaigns, some people mistakenly believe that means a one-size-fits-all mass mailing. Nothing can be further from the truth.
Email marketing takes place between you and those who expressed interest in hearing from you. Whether they entered their email based on a social media post or they purchased from you, those on your email list permit you to contact them. This gives you an inside track and a higher chance of the email being read.
Personalisation makes a big difference in how a recipient reacts to an email. Often, the decision to open an email is swayed by a personalised subject line. For example:
Emails with the recipient's first name in the subject line had a significantly higher rate of being opened than those without the small personalisation. Additionally, these recipients were more likely to click through your website.
If a company includes an emoji in the subject line, there is a 56% higher opening rate.
Emails mentioning sales have a greater opening rate and net the business six times more money than other emails.
Additionally, your personalised emails can be precisely targeted. A brand new customer would get a different message than someone who has been a long term customer. The same is true for those who abandon carts and get a friendly email asking if there was a problem.
3. Offer more value to your customers: The concept of offering valuable information to customers is not new. That should be the goal of every blog post on your website.
However, you can offer your email list content that is even more valuable via email. Since you have more information, you can be more specific in the offers you send.
For example, you own a pet supply store. You can offer videos and somewhat generic dog grooming advice to help any dog owner in blog posts. With an email promotion, you can send examples of grooming aids for specific breeds and ages of dogs. How? By asking for information about the customer's pet when they make a purchase. Most pet owners who are online buying unique products are happy to tell everyone about their furry companions. So, if Mr Jones has a pair of Afghan hounds, an email to him might include mention of tools made for long-haired dogs or unique shampoo suggestions.
4. A place for cost-effective self-promotion: Many business people struggle with self-promoting. Because the customers on your email list chose to hear from you, you have a place to grow your business relationship. These folks want to hear from you and about your business news.
The amount you spend on a well-targeted Email campaign will not come close to the cost of similar print or social media ads. Email advertising is also valuable for featuring last-minute promotions.
5. Amplify your sales: Your bottom line will always be a significant indicator of your success. By using email marketing, you can expect a boost in sales and profits.
Consider the facts:
59% of marketers report that email is their most significant source of ROI
Of business-to-business marketers surveyed, 31% feel that email newsletters are the best way to strengthen relationships with their partners
78% of marketers noticed an increase in email engagement over the past year.
What are the best email clients for my business?
Email clients can be a huge source of help for businesses struggling to maintain their equilibrium whilst sending and receiving large quantities of emails. By adding an app, your email client will allow you to manage mail from various email service providers. There are free and paid email clients available. Here are some of the best.
Campaign monitor
The email client Campaign Monitor is an excellent option for small to medium-sized businesses. It is easy to use and focuses on helping users start their emailing right away. It also offers valuable analytics to guide SMBs and assist with tracking.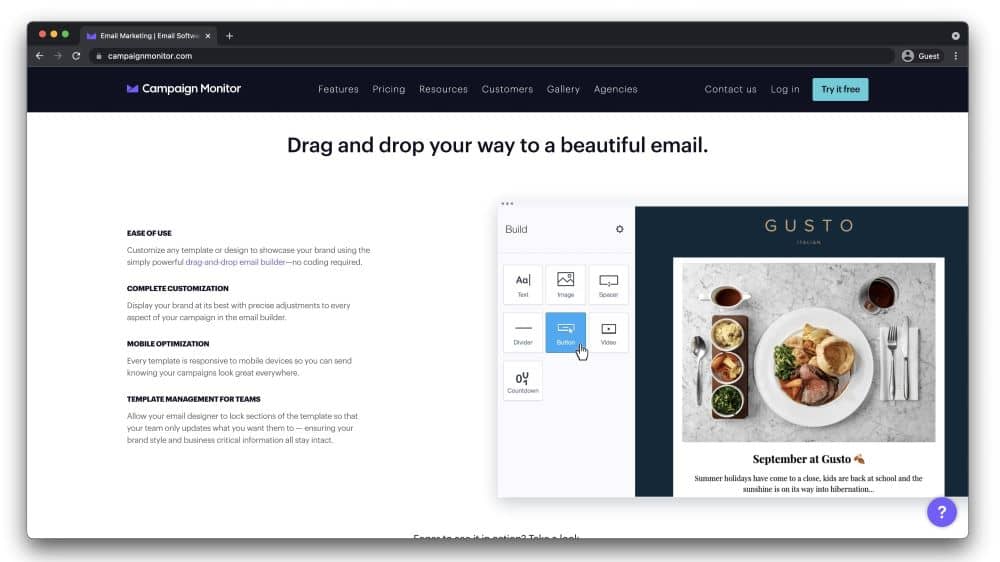 Mailchimp
From its beginnings as an email marketing tool, Mailchimp is now a digital marketing hub. However, even with its new features (including easy integrations with content management systems), Mailchimp provides the same level of excellent services as an email client. By adding some AI, Mailchimp makes the platform even easier to use.
Kiwi for Gmail
Now in use in over 120 countries, Kiwi for Gmail is ideal for dedicated Google users. Kiwi puts all of Google Docs and Gmail together on your desktop to create a standalone application. Kiwi for Gmail is customisable and is an excellent tool for SMBs.
Spike
The email client offers a unified platform for users as it works on top of any email on the web as well as across iOS, Android, and Mac. It is ideal for group collaborations in real-time, and Spike's inbox provides a single place for all of your tasks.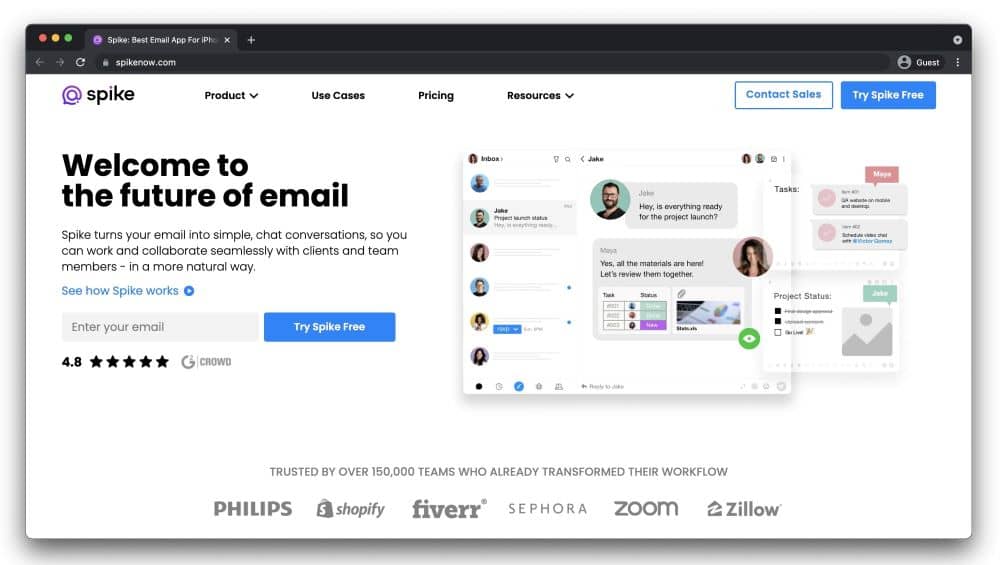 Mozilla Thunderbird
One of the best free email clients available, Mozilla Thunderbird is also open source. It supports unlimited email accounts, is customisable, and offers enhanced security measures.
What templates can help me make better emails?
While there are scores of templates available, you can get started in your email marketing with a few crafted with a specific audience in mind. Here are three templates from Autoklose.
1. Cold outreach email
The cold outreach email is tricky because you must hit it out of the park on your first try. To get a recipient's attention, urgent questions in the subject line are a good option. Additionally, insert a few pain points as well as how you can be of assistance.
EXAMPLE
Need more high-quality leads?

Hi Mike,

Establishing a steady flow of high-quality leads is essential for the growth of any business, and we all know how challenging this process can be.
These challenges and how to overcome them are the topics that I will tackle in my free upcoming webinar, "7 tips for Using LinkedIn for Lead Gen".
Join me, and I'll share with you my experience together with a lot of actionable tips that can help you start growing your contact list right away.

Sign up here: LINK.
Best regards,
Shawn
Founder & CEO, Autoklose
Reference a Common Connection. Adding the name of a shared associate can frequently open the lines of communication on a cold email. You must have the approval of those whose names you will be dropping before you try this technique.
EXAMPLE
Shawn Finder recommended I reach out to you

Hi Tim, I was having a conversation with Shawn Finder the other day about sales automation. He mentioned that you were actively searching for a solution to automate your business.
That's precisely my company's area of expertise, so I believe that you can benefit from using Autoklose.
It would be my pleasure to show you how it works and how to make the most of it.
Pick a lot in my calendar and book a demo with me directly whenever it suits you: calendly.com/autoklosedemo

Talk to you soon,
Vedran
2. Trigger event emails
Recipients are more likely to open an email if they know why they are getting it. Mentioning the triggering event in your subject line should get the email opened. These triggers can range from making a purchase, responding to a social media post or another noteworthy event.
EXAMPLE
Congrats on your new position

Hi Ved, I see that you've been promoted to Head of Marketing Department, and I'd like to congratulate you. I'm sure that you invest a lot of hard work in everything you do.
You're in for a lot of great things and challenges too. Should you need any help regarding email marketing, feel free to contact me.
It would be a good idea to have a quick call very soon, as I'm sure I can offer you some really valuable advice.
Pick a date and book a call with me on the following link: calendly.com/autoklosedemo

Let's keep in touch,
[First Name] [Title] [Company]
3. Send helpful content
Passing along useful content, even if it does not originate with you, is a good way to show the people on your email list that you have a sincere desire to help others.
EXAMPLE
How to successfully manage a sales team?

[First Name], first of all, congratulations on taking over the position of Head of Sales. It's very well earned.
Since I know that this job can be challenging, I've found a worthwhile read on building and managing a successful sales team. Here's the link to the [Blog Post]. I think you'll find it very helpful.
What do you think?

Regards,
[Your Name]
Plug-ins for data capture
Once you have gone through the steps necessary to create an exceptional email marketing campaign, you will need to know if you are successful. An efficient way to find out is by adding a plug-in to give you the information you need to assess your progress. Here are several excellent plug-ins to get the data you need.
MonsterInsights: Billed as the best Google Analytics plug-in for WordPress, lets you connect with Google Analytics so you can get a picture of how people are finding and using your website. You can customise the plug-in to gather the data you need.
WP Subscribe: A responsive and easy to use plug-in, WP Subscribe offers Aweber, Mailchimp and FeedBurner. It is the only free, all-in-one plug-in to provide this. This is an effective way to make substantial profits from your email list.
OptinMonster: As one of the most popular conversion rate optimisation software options available, optinmonster is hard to beat. It helps you turn abandoned carts into converting customers with its fantastic selection of templates created to make conversions happen.
Get started today
Email marketing offers your business a considerable ROI when done right. A professional email campaign can place you far ahead of your competitors and build your brand recognition, regardless of your sales volume.
If you would like your company to grow significantly in 2022 and beyond, reach out to Digital Hitmen. We'll help you reach your full potential online.